Kawasaki "Change the Game" with new strong hybrid Ninja 7 HEV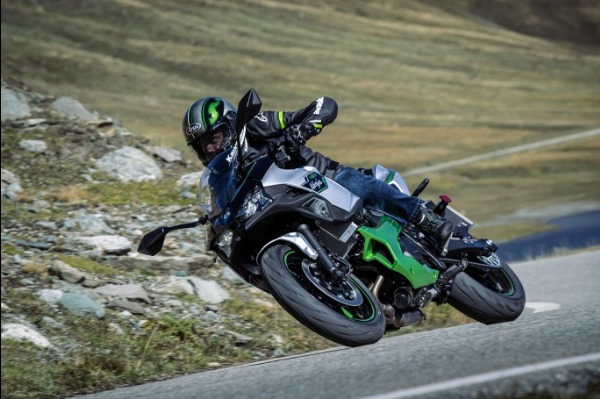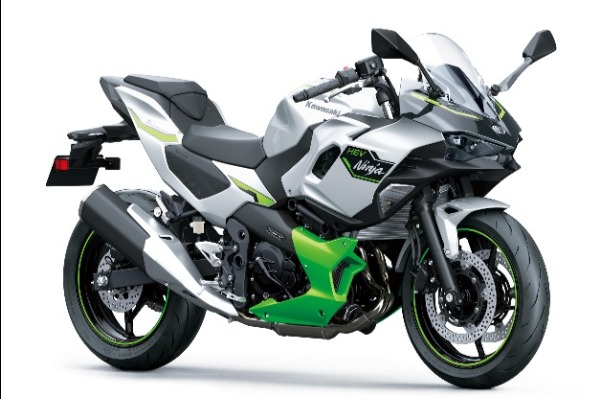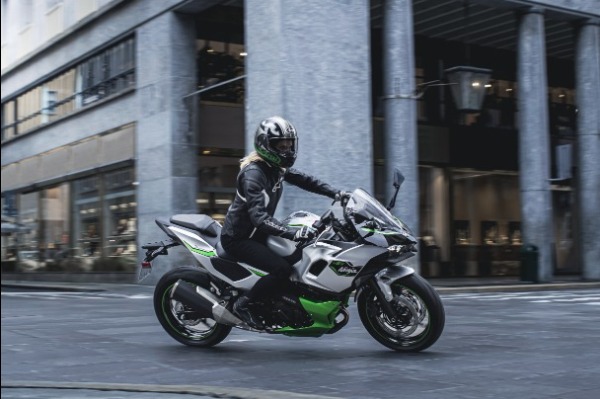 Having only recently held the debut of its new A1 licence class EV motorcycles in Paris, Kawasaki is taking another giant step down the road towards its long term goal of carbon neutrality with the introduction of the world's first* mass produced Strong Hybrid*, the Ninja 7 Hybrid.
Seeking to "Change the Game", the all new Ninja 7 Hybrid offers a unique window into a world of future motorcycles but in a contemporary time frame with the first models expected to be on showroom floors in January 2024. 
At the heart of the Ninja 7 Hybrid is the innovative combination of a brand new 451cc parallel twin, water-cooled four stroke engine – complete with manual or automatically selected gears – and a traction motor plus battery; a futuristic combination that offers a number of new riding experiences plus an engine power of 43.5 kw rising to an impressive hybrid net power of 51.1kw thanks to "e-boost". 
In terms of dimensions, the Ninja 7 Hybrid is a mid-size package offering 650cc to 700cc class overall performance with the instant acceleration to rival that of a 1,000cc-class supersport model from a standing start (with Kawasaki's e-boost function already seen on their EV machines), fuel economy on par with the 250cc-class and button-shift sport riding. In addition, riders can switch between three riding modes (SPORT-HYBRID, ECO-HYBRID, EV**) that each offer a distinct riding character as they accommodate a wide range of riding situations. 
Other innovations include idling stop whereby the internal combustion engine stops at a halt to save fuel and reduce emissions plus Automatic Launch Position Finder (ALPF) which – when selected – automatically selects first gear at standstill plus a forward and reverse "walk mode" to aid low speed manoeuvring and parking. 
Utilising a specially designed version of Kawasaki's familiar trellis type chassis, the "packaging" of the gasoline engine and 9kw max traction motor reveals a compact twinned power unit with the 48V lithium ion battery near the centre point of the chassis to idealise weight distribution. And in terms of styling, the Ninja 7 Hybrid is resplendent in a unique HEV treatment combining a matt lime green under cowl with silver and black bodywork destined – like its engineering innovations – to set this bike apart from the common herd. 
Ergonomically, the relaxed and sporty riding position eases the rider towards the high-grade cockpit and carefully considered layout of the switchgear; both designed to be intuitive and to inspire confidence.  For the meters, full-colour TFT instrumentation includes smartphone connectivity via a custom version of the RIDEOLOGY THE APP MOTORCYCLE contributing to an enhanced motorcycling experience.  
As the first of its kind, the Ninja 7 Hybrid sets the bar for HEV motorcycling.  Offering the best elements of ICE and EV models, and able to navigate both the urban jungle and countryside backroads, this revolutionary new model is greater than the sum of its parts.  With its exciting character and numerous innovative features for riders to explore, the Ninja 7 Hybrid truly ushers in a new era in riding experiences. 
The Ninja 7 Hybrid will be available in the UK from April 2024, with prices to be confirmed nearer the time. 
* Mass production models (excluding scooters) from a major power sports manufacturer as of October 6, 2023, per Kawasaki Motors, Ltd. research.    
Strong hybrid systems combine an internal combustion engine (ICE) with an electric motor for powerful riding, and because of their large battery capacity they are able to run on electricity alone. 
** The Ninja 7 Hybrid's EV Mode may be helpful for certain situations where quiet riding is appropriate, such as in residential areas or in parking garages. Speed and range are limited.